PFC Corofil fire barriers maintain a seal at Fortis Quay development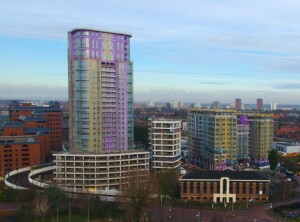 PFC Corofil's proven range of fire-stopping insulation systems form part of the façade system and will maintain fire compartmentation at a stylish new high- rise residential development in Manchester.
Comprising 759 apartments, Fortis Quay in Salford Quay has been designed by architects Bowman Riley and forms part of the regeneration of the former Manchester Docks. The residential scheme includes a new 27 storey apartment block along with the conversion and extension of two existing 1960s office buildings into residential use and from six to 10 storeys and 11 to 17 storeys respectively.
For the new 27 storey Northill Tower which forms Phase Four of the development, PFC Corofil worked with main contractor Beaumont Morgan and subcontractor MAC Roofing to provide a proven fire compartmentation solution between the exterior brick façade and concrete floor slab.
The contractor MAC Roofing installed the PFC Corofil Open State Barrier COSB 25 and PFC Corofil Cavity Firestop CCFS to seal the void between the floor slab and the external facades, and provide vertical compartmentation at every floor level of the residential tower. A continuous free air gap of up to 25mm was required for the horizontal cavity.
PFC Corofil's product offers a unique combination of effective on-site performance and easy installation.  Supported by extensive technical support, PFC Cavity Barriers and Firestops have been designed to maintain fire resistance by expanding to form a fire barrier between the inner substrate of apartment floors, walls, and the back of the external cladding both horizontally and vertically.
Suitable for cavities from 51mm to 300mm wide and to provide up to 60 minutes fire protection, PFC Corofil Open State Barrier COSB 25 comprises an intumescent strip and a rock mineral fibre backer enclosed in a polythene shrink wrap.  Installed vertically on the Northill tower, the third-party certified PFC Corofil Cavity Firestop CCFS is fire rated up to 120 minutes and is suitable for vertical cavities with a maximum size of 600mm.
The Fortis Quay development will undoubtedly make its mark on the harbour regeneration with its pinnacle piece being the striking new Northill tower.  PFC Corofil has once again provided firestopping products that will play a vital function of passive fire protection within this residential building.