PFC Corofil Cavity Barriers bring level of safety to stylish city centre development, Local Crescent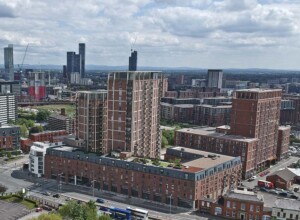 For a major new residential development in the Salford area of Greater Manchester, PFC Corofil has provided a proven range of fire-stopping insulation systems as part of the façade system and to maintain fire compartmentation of the buildings.
Designed by 5plus architects for Salboy Ltd, Local Crescent is a state-of-the-art apartment complex along the Crescent Road in trendy and popular Salford.  Designed to reflect the adjacent Grade II listed terraced homes, the 399-unit development has a predominantly red brick façade on its two towers of 22 and 16 storeys and smaller six-storey block. This project saw main contractor Domis Construction work with PFC Corofil who provided a proven fire compartmentation solution between the exterior brick façade and concrete floor slab.
To seal the void between the floor slab and the external facades and provide vertical compartmentation at every floor level of the residential towers, the contractor installed the PFC Corofil Open State Barrier COSB 25 and PFC Corofil Cavity Firestop CCFS. A continuous free air gap of up to 25mm was required for the horizontal cavity.
Offering a unique combination of effective on-site performance and easy installation, the products are supported by PFC Corofil's extensive technical support.
PFC Cavity Barriers and Firestops have been designed to maintain fire resistance by expanding to form a fire barrier between the inner substrate of apartment floors, walls, and the back of the external cladding both horizontally and vertically.
Suitable for cavities from 51mm to 300mm wide and to provide up to 120 minutes fire protection, PFC Corofil Open State Barrier COSB 25 comprises an intumescent strip and a rock mineral fibre backer enclosed in a polythene shrink wrap.  Installed vertically on the towers at Local Crescent, the third-party certified PFC Corofil Cavity Firestop CCFS is fire rated up to 120 minutes and is suitable for vertical cavities with a maximum size of 600mm.
As a gateway between Salford and Manchester, Local Crescent will undoubtedly make its mark on the city skyline. PFC Corofil has played its part in delivering proven solutions which meet the client's passive fire protection requirements and ensure this development is fire safe.
Do you need technical support for passive fire protection on a project? Contact our team today to discuss your requirements.